Lake Petenwell WI
Lake Petenwell is Wisconsin's second largest body of water (23,000+ Acres), created by Wisconsin River Power Company in the 1940s by building a Hydroelectric Dam on the Wisconsin River. Lake Petenwell is also known as Petenwell flowage. It has plenty of fine waterfront real estate around Petenwell County Park which is one of Central Wisconsin's most popular parks. Just south of the Petenwell Dam, is Castle Rock Lake, which is WI 4th largest lake. Theses two lakes, along with the Wisconsin, River separate Adams County & Juneau Cty. Today Lake Petenwell is one of Central Wisconsin biggest attractions along with Wisconsin Dells, which is only about 30 minutes directly south.
Special Thanks to our Website Sponsor Landman Realty llc 608-339-8030
Petenwell Lake Pictures and Photos
Also Checkout Real Estate for Sale - Castle Rock Lake | Rome WI | Tri-Lakes | Lake Arrowhead | Lake Camelot | Lake Sherwood | Twin Lakes | Petenwell Lake
Website Features:
Petenwell Flowage Fishing Forum

Real Estate

; Lakefront, Deeded Access & Log Cabins

Local Events Calendar

Description, Locations & Photos of Public Access Points on the Lake.
For More information about Wisconsin Wolf including photos - https://wisconsin-wi.com/wisconsin-wolves.html & https://wisconsin-wi.com/wolves.html
Petenwell Lake offers GREAT fishing which attracts several LARGE fishing tournaments throughout the year including the spring Musky Tournament and a Walleye Tournament. You can find a wide variety of fish in Petenwell including Musky, Walleye, Largemouth Bass, Smallmouth Bass, Channel Catfish, Bigmouth Buffalo, Northern Pike and plenty of panfish. Boating is great for most recreational or fishing boats. Sailing Regattas are popular as is swimming and camping. Many full time and part time people enjoy the beautiful wooded shoreline and the peace and quiet of all the public lands. Whether you have Deeded Access or actual Lakefront, your Waterfront Property or Log Cabin, is sure to provide you with years of enjoyment along both the Adams County or Juneau County sides of the lake.
Petenwell Flowage Pictures Northend & Southend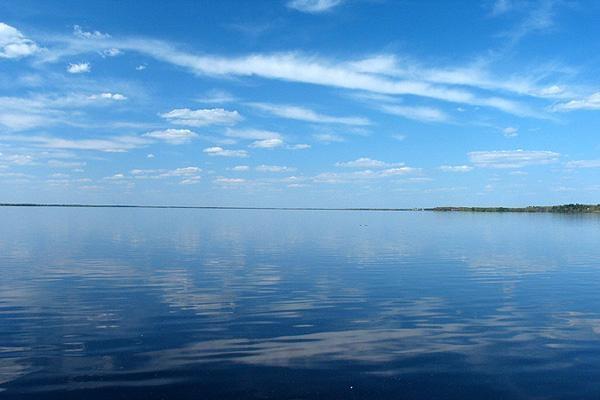 _______
Petenwell Lake Quick Specs:
Size with Islands

23,218 acres

Average Depth

Not Determined but the old river bed is about 44 feet deep, several 20 – 25 foot pockets and most of the shoreline is 3 – 5 feet.

Bottom of Petenwell. Mostly Sand & Rock

Petenwell Lake WI Map


View Petenwell Lake, WI. in a larger map

Adams County | Waushara County | Wisconsin | Public Land

Lake Petenwell Wisconsin